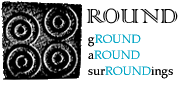 ---
What is round
---
round 01 Jewels

details
from "Introduction" to round 01
contents
sample pages
contributors to round 01
---
about publisher
What is acetate?

---

mAAN (modern Asian Architecture Network)





mAAN 6th International Conference, Tokyo Japan



---
banner

round

01: Jewels

Selected Writing on Modern Architecture from Asia

edited by Yasushi Zenno and Jagan Shah

The first issue of round has been recently publishsed and now available at select book stores in Japan as well as directly from acetate. Please contact us for order information. We are also looking for book sellers and dealers abroad who are interested in carrying round. If you are interested in, please write to us.



What is round?
round is co-edited by Yasushi Zenno (Tokyo/New York) and Jagan Shah (New Delhi) and published by Norihito Nakatani (Osaka). It will be the first of its kind, a journal that showcases the textual wisdom found in diverse architectural traditions of Asia, knowledge that has untill now been restricted to local circles of scholars and practitioners of each tradition.
By publishing in English, round wishes to foster the sharing and discussion of such vital knowledge and practice across the national and linguistic boundaries that seperate the cultures of Asia.